Around Dutchland, August, 2003
by Penny Pyrbred
It has been a busy summer in Dutchland. June brought a sensational Fun Match at Gress Mountain Ranch which Penny's busy schedule unfortunately forced her to miss. Merlin Skorup served as our correspondent and did a wonderful job of documenting this event.

Ruegar Lamoureaux, Fae Buddle and Merlin Skorup
socialize during some down time at the Fun Match.
Speaking of correspondents, Penny can hardly wait to hear from our newest foreign correspondent, Frodo Trent, who will be giving us the Pyrspective from New Zealand. According to the New Zealand Club's newsletter, Frodo placed second to a Tibetan Terrier at a Fun Match, and to add to the insult, lacking a grooming table, the judge examined the Terrier on Frodo's back! We'd love to hear more details about this bizarre event.
July brought the highlight of the summer social season, the Pyrenean Fun Day. While it was a bit warm for those of us with attached fur coats, there was lots of food, fun and fellowship.
Of special note was the return of the Fiendishly Clever Canine Games organized by Gail Hillard. Emphasis was placed on events involving water and minimal physical exertion, so many Pyrs and their people enjoyed a refreshing shower either from water balloons or water bowls which the humans (and some of the Pyrs) attempted to carry on their heads.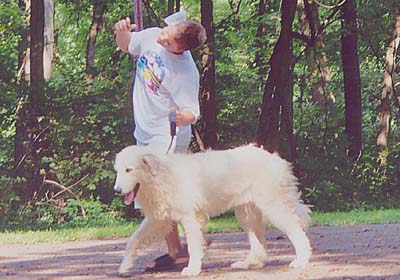 Dylan Simon, assisted by Bergie, figured out how to make
his head flat enough to carry the water bowl.
It was good to see Billy Budd Gill out and about and meet Jolie Murray, a cute young girl who will be breaking some Pyr hearts in a year or two.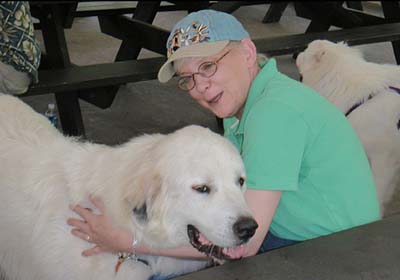 Jane and Billy Budd Gill enjoy the hospitality at Fun Day.
Among those present were the Edingers with Chance, the Ungers with Tristan, Chelsea and an honorary Pyr named Goldie, the Kintsfathers with Abigail, Jane Gill with Billy Budd and Weezie, the Zinns with Louie, the Lamoureauxs with Rueger, the Manwillers with Clarice and Bogey, the Simons with Bergie, Diane Murray with Odin and Jolie, the Matoliczs with Gracie, Marylu Evans with Heiko, Barb Bowes with Chelsea and several people with dogs that Penny didn't get to meet. Attending Pyrless were Gail and Ethel Hillard. A great time was had by all and a lot of the human food ended up in us Pyrs.
Looking ahead, the Club is planning an exceptional Regional Specialty for Saturday, September 13th at Macungie Park on Rt. 100 southwest of Allentown. Penny would love to see all our members come out and support our show Pyrs both in conformation and obedience.
Immediately following the judging (usually about 11:30 am, but ring times will be posted on Penny's Web page at www.pyrbred.org the week before the show) there will be a tailgate party at the Oberholtzer Pavilion on the Park grounds. While dogs not entered are discouraged from attending the show, companion Pyrs are welcome at our tailgate party. To help companion owners learn more about the show scene, an informal seminar will be conducted at the picnic.
At 7:00 pm the action moves to the Hospitality Suite back at the show hotel, the Days Inn at the intersection of Rts. 22 and 309. Light refreshments will be served and a wine and cheese tasting will be hosted by Fred Unger, who will then serve as auctioneer to auction many cool Pyr-related items. While the evening event is primarily for people, a Pyr or two HAS managed to sneek in on occasion. Penny hopes to see lots of Penn-Dutch people and their Pyrs at one of these Specialty-related events.
Sadly, with this issue we have an unprecedented number of losses to report. The Bechtels lost Napoleon and honorary Pyr, Jarrell, the Powells lost Missey, the Sargents lost Misty, the Simons lost Babs, Barb Bowes lost Bo, and M.J. Knight lost Zoe. Zoe's vet made a contribution in her name to the Baker Institute at Cornell's vet school, which sounds like a worthy cause. If interested, check it out on the Web at http://bakerinstitute.vet.cornell.edu or call 607-256-5600.
Penny extends her deepest sympathies to the families of all of these noble dogs. They will be greatly missed.
Please come out and support your Club at the Regional and some of the other neat events listed in the Upcoming Events section. The more Pyrs and people we get to an event, the more fun for everyone! See you soon.

---
| | | | | | | | | |
| --- | --- | --- | --- | --- | --- | --- | --- | --- |
| | | | | | | | | |
| --- | --- | --- | --- | --- | --- | --- | --- | --- |