Around Dutchland, August, 2002
by Penny Pyrbred
Since our last issue there have been three outstanding Penn-Dutch events. May 18th brought the Spring Walk-in-the-Woods at Lake Nockamixon. While not much of a hiker, Penny attended and enjoyed the food and gossip. Jeff and Patti Bechtel did their usual wonderful job of hosting this event, aided by Napoleon. Abigail Kintsfather seemed quite taken with this old boy who can still turn a head.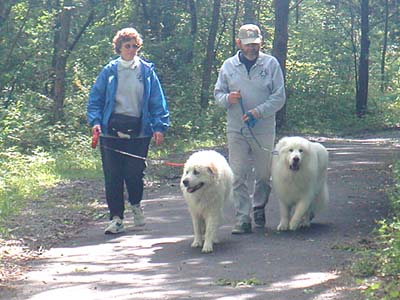 Penn-Dutch Pyrs and their people enjoy Spring Walk.
On June 22nd Ben and Kathy Gress hosted a Fun Match at their Gress Mountain Ranch. More emphasis was placed on the "Fun" than the "Match." Joanne Summers introduced many Penn-Dutch Pyrs to agility for the very first time, which created some comical situations, such as Tristan Unger deciding to take a nap in the middle of the long tunnel. Merlin Skorup, however, showed everyone how it should be done as he zoomed through the course with Mom Judy racing to keep up.
Winnie Pugh conducted the obedience clinic and match, while Jay Manwiller handled conformation. Both experts imparted a lot of basic information and a few tricks of the trade. Everyone had a wonderful time!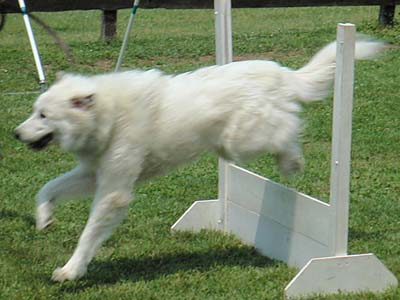 Merlin Skorup zooms through agility course at Fun Match.
Pyrenean Fun Day was moved back to July after two years of June dates had failed to produce cooler weather. While attendance was not as great as Penny would have liked, there was lots of great food and fellowship.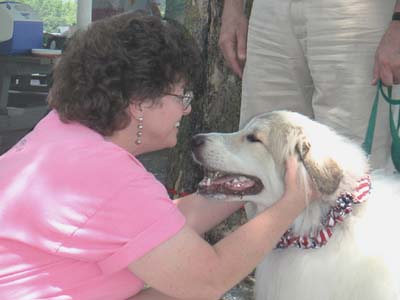 Winnie Scarborough (R) enjoys Stephanie Unger's
world famous ear scritching at Pyrenean Fun Day.
Just around the corner is the Penn-Dutch Regional Specialty to be held Saturday, September 14th, in conjunction with the Lehigh Valley Kennel Club's show in Macungie, PA. The show is in Macungie Park right on Rt. 100 just a few miles south of Allentown, PA. We have requested a 10:00 ring time, but final assignments aren't made until about a week before the show. As soon as they are set, ring times will be posted on Penny's web page (www.pyrbred.org) and the Penn-Dutch page.
Penny hopes to see lots of Penn-Dutchies come out and root for our show Pyrs, both in conformation and obedience. There will be a tailgate picnic and auction in the Operholzer Pavilion approximately 1/2 hour after the completion of breed judging. Food and beverages will be available all afternoon, so stop by and visit. Fred Unger will have a variety of neat Pyr items for sale including the brand new Club T-shirts. Non-entered dogs are discouraged on the show grounds, but Rescue Pyrs and others are welcome to attend the tailgate social.
At approximately 7 pm the action moves to the show hotel, the Days Inn at the intersection of Rts. 22 and 309. Fred Unger will host a wine and cheese tasting. If his performance at the 2001 GPCA National in Boston is any guide, those not staying at the hotel should make sure to select a designated driver. Should the party spirit lag, try pressing the Milk Bone®-shaped icon in Stephanie's fancy German car--the OnStar® operators love to chat with tipsy Pyrs and their people!
On Sunday, October 13th, Penn-Dutch will again participate in the All-Breed Rescue Fair at Peddlers' Village, Lahoska, PA. While we especially want participation by Rescue Pyrs, all Penn-Dutchies and their Pyrs are welcome. Last year we were one of the best represented breeds and we did a wonderful job of educating the public about Pyrs, while making some new friends for Rescue. Let's make 2002 even better--it is a really fun event!
The next Saturday, October 19th, brings the Fall edition of the popular Penn-Dutch Walk-in-the-Woods. Come out to Lake Nockamixon to enjoy the beautiful fall scenery and partake of lots of food and conversation.
On November 10th Penn-Dutch will host a booth at the Dog Lovers Holiday Bazaar at the National Guard Armory in Northeast Philadelphia. This event had to be canceled last year in the wake of the 9/11 attack, but in past years it has been a great opportunity to introduce our breed to the public.
December 7th brings the Penn-Dutch Holiday Party, returning to the excellent facilities of the Lodge at Lancaster Central Park. Pyrs and their people should definitely mark their calendars for this festive event. It will feature lots of great food and the fiendish Chinese gift exchange, which definitely requires Pyr supervision.
Looking ahead to 2003, Penny encourages ALL Penn-Dutchies to attend the Great Pyrenees Club of America (GPCA) National Specialty to be held in Richfield, Ohio (near Cleveland). The Show Chair has promised lots of fun events for non-show Pyrs and their people including the Canine Good Citizen test and a Parade of Rescue Pyrs.
A National Specialty is just about the most fun you can have legally! It is like a trade show, educational seminar, cocktail party, and dog show all rolled into four exciting days. Where else can you pet 300 beautiful Pyrs without leaving your hotel? The Ohio Club put on a really fun show back in 1995 and Richfield is an easy day's drive for most Penn-Dutchies, so Penny hopes to see lots of you there. Make reservations soon, as it is always way more fun to stay at the show hotel and it will fill up quickly.
To close out this report, Penny would like to recognize some Penn-Dutch Pyrs on the Disabled List. Christy Skorup is still battling bone cancer with grace and courage. Brutus Gress is being treated for gastric lymphoma and also has laryngeal paralysis, which impairs his breathing. Both Chelsea and Tristan Unger are recovering from recent surgeries. Penny urges everyone to keep these wonderful Pyrs and their families in your thoughts and prayers.
Try to stay cool and Penny hopes to see everyone at a Penn-Dutch event soon.

---
| | | | | | | | | |
| --- | --- | --- | --- | --- | --- | --- | --- | --- |
| | | | | | | | | |
| --- | --- | --- | --- | --- | --- | --- | --- | --- |