Showdog for a Day: Clondike "does" Chicago

by David Kintsfather


photo by Tami McKenna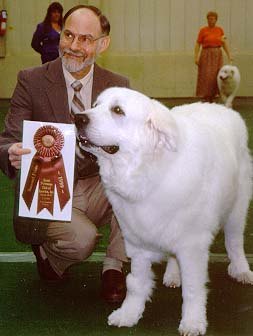 David & Clondike at the 1999 GPCA National Specialty.


(The following article was written for the Great Pyrenees Club of America's Bulletin where it appeared
in the July/August 1999 edition as a sidebar to "Another Year with Clondike."
Clondike Blanche Neige, CGC, TDI, VA was born on November 5, 1987 on a farm in Kansas. She was soon winging her way to a pet store in the Big Apple where she was purchased by a young lady who had come in to buy an Akita.
By October of 1988 she was growing too big for her row house on Staten Island and the owner contacted Pyr Rescue. We went to visit her and soon she came to live with us in the little town of Topton, PA.
Over the years she trained us well and performed meritorious service as a companion and town security dog. She even condescended to show me off in the ring at several Penn-Dutch fun matches.
Clondike attended the 1997 GPCA National Specialty in Frederick, MD and attained her CGC and TDI certifications. She even found romance at the Specialty, but she eschewed the attentions of the champions in favor of a charming companion Pyr from Florida named Barney. They have maintained a long distance relationship ever since (click here for photos).
At 9 1/2 years of age she embarked on a career as a therapy dog, visiting the local nursing home once a month. She also became an international celebrity by means of the Internet, where I had told various stories of her antics and where she had the opportunity to tell her own story (click here for "My Life as a Rescue Dog"). She also authored a Pyrenean fairy tale entitled "Clonderella and the Evil Stepbitches" which has been translated and published in the national newsletters of the Pyr clubs in Norway and Sweden and in a regional newsletter in Australia.
I had wanted to enter Clondike in Veterans class (she is spayed) at the 1997 National just to get her name in a catalog. Nancy had worried about the propriety of entering a Rescue dog of questionable breeding in a point show, so we didn't. Various Penn-Dutchies had since encouraged us to enter Clondike in the 1999 National, and figuring it was her last chance, I did. It never entered my mind that she would actually be well enough to travel to Chicago, let alone show.
As the National approached, Nancy said that since I had entered her, I'd actually have to take Clondike to Chicago and show her if she was up to it. Clondike kept getting stronger and stronger, and the week before the show we consulted the vets. Surprisingly, it was the oncologist who said, "Go to Chicago and have a great time." The other vets were a little less enthusiastic, but reluctantly agreed that she could probably make the trip.
So, we loaded up the car and 15 hours later (with lots of stretch breaks for Clondike) we were in the Windy City. After one hour's sleep, I woke up Thursday morning vomiting and was really tempted to use Clondike's injectable Centrine anti-nausea medicine (alas, not approved for human use). Clondike was fine.
By Saturday I was mostly recovered and we showed in Veterans, the first point show for either of us. Clondike had the distinction of being the oldest Pyr entered by three days! She placed second in a class of two, but she had a great time and met a lot of great people. Clondike might have showed with a tad more pizzazz if the ring time hadn't been 8:30 am--NOT a morning dog!
The reaction to Clondike's apPyrance at the National was almost magical. Tami McKenna from Indiana had commissioned an amazing floral arrangement featuring fresh brussels sprouts (Clondike's favorite treat and preferred bait). She also took some great photos which she got developed and mounted in a handsome album by the time the banquet started Saturday night (click here for photos).
Mary Beth Vaudrin from Minnesota produced lapel pins featuring brussels sprouts which she distributed to Clondike's fan club. It seemed they were everywhere!!
Buff Boy (Gunner Migas) sent a dozen roses that arrived the night before the show to cheer on Ms. Clondike.
Penn-Dutchie Dianne Migas managed to get plane reservations at the last minute and kidnapped Barbara Bowes (Barbara's first plane ride, ever!) to fly out Friday night so they could watch Clondike show on Saturday.
Dave Simon (Penn-Dutch's resident grooming guru) gave Clondike a show grooming Friday night that left her looking absolutely magnificent!
It really was an incredible experience (just like Clonderella attending the ball) and we are very grateful to everyone who made it possible.
(click here for Clondike's photo index)
(click here to read about Clondike's lymphoma therapy)
Return to "Around Dutchland"
---
| | | | | | | | | |
| --- | --- | --- | --- | --- | --- | --- | --- | --- |
| | | | | | | | | |
| --- | --- | --- | --- | --- | --- | --- | --- | --- |